Easy Going
The revolution in ski boot soles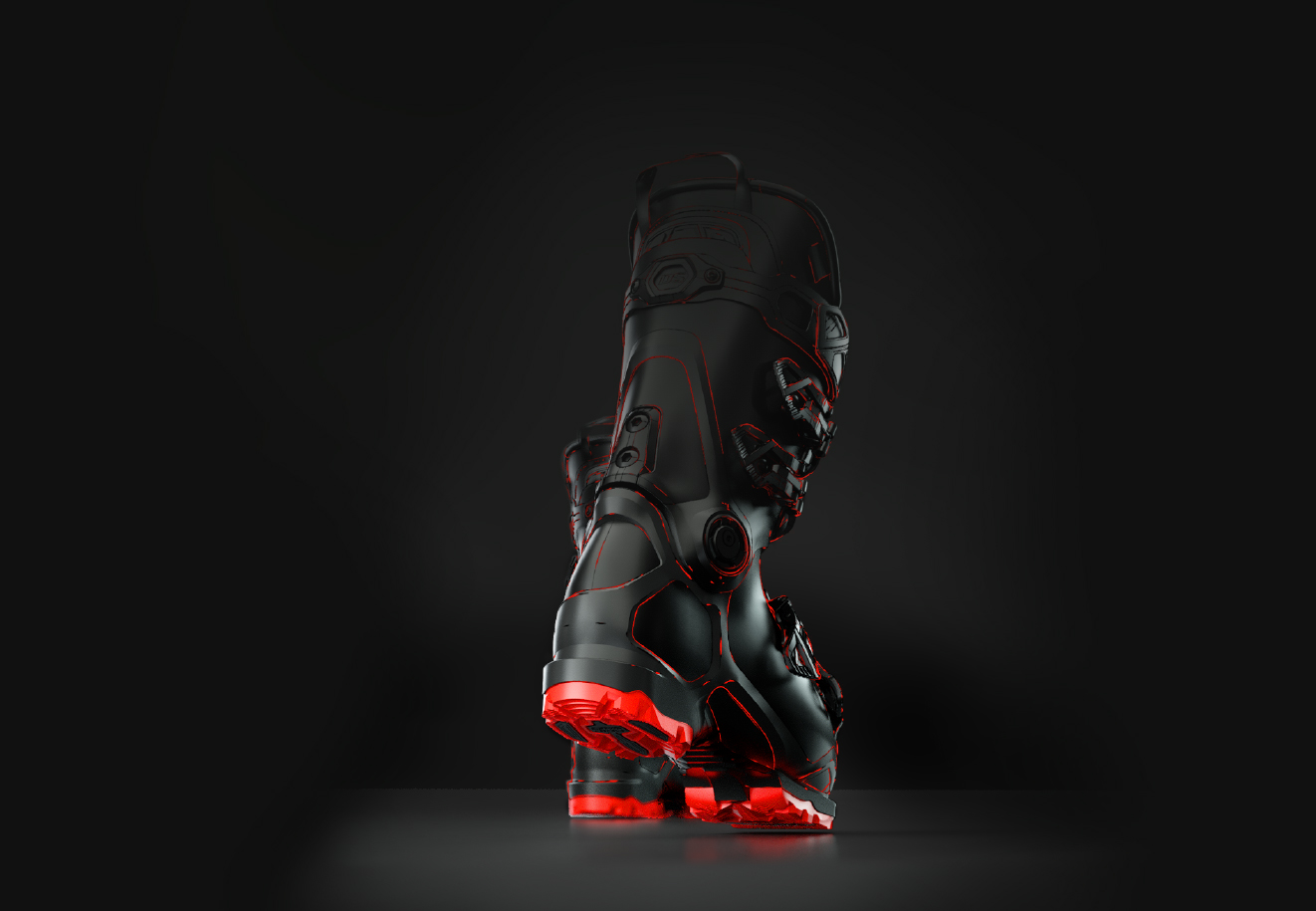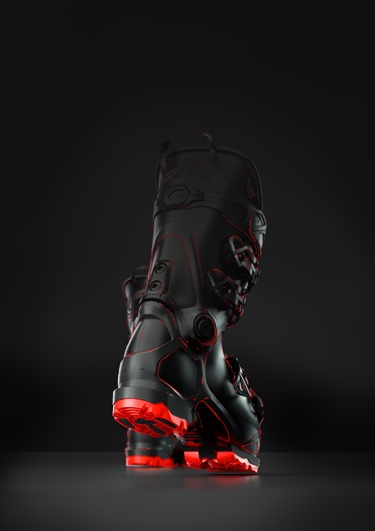 One GripWalk system – lots of benefits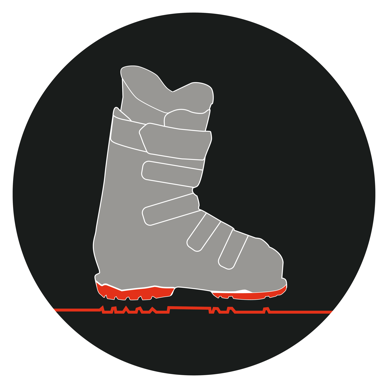 Excellent grip for walking
Pronounced rib profile
Non-slip material
Perfect grip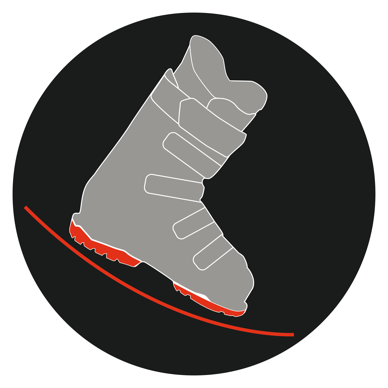 Ergonomic sole
Natural walking feeling
Rounded sole profile
Improved rolling properties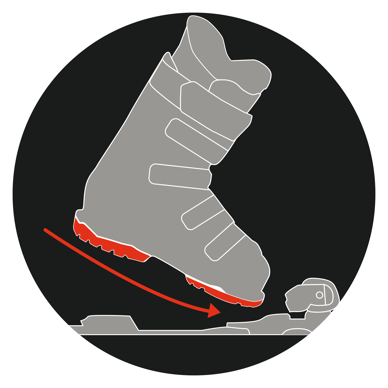 Innovative GripWalk system
GripWalk binding compatible with both GripWalk sole and also with Alpine soles (ISO 5355)
No height adjustment required
Replaceable toe & heel pads
GripWalk sole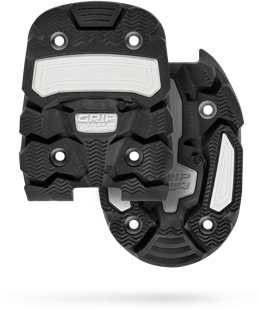 GripWalk binding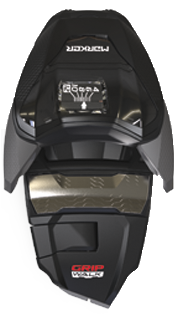 Increased walking comfort, more safety when walking and superb ski performance
Walking in ski boots can be a rather slippery affair on some surfaces. But the new GripWalk sole and binding system turns a conventional ski boot into a real performance miracle . This is particularly achieved by the excellent grip, rounded high profile soles and the GripWalk binding components perfectly tailored to them. Made of a new type of copolymer rubber material, the convex rib delivers outstanding walking comfort and superb grip on slippery surfaces. Furthermore, the sole pads, which can be replaced separately, ensure perfect power transfer around the toes and heel as well as a precise release. As long as you use an original GripWalk binding or a 100% compatible touring binding which you can identify by the official GripWalk logo. Unfortunately, conventional Alpine bindings without a logo are not compatible.
Easy matching – if it says GripWalk on it, it's got GripWalk in it.
GripWalk soles are available from almost all well-known ski boot manufacturers for their products. Furthermore, GripWalk bindings are fitted to most Alpine skis from well-known winter sport brands. You can always use innovative GripWalk soles on your skis if you have a GripWalk binding. You can identify this quite simply through the official GripWalk logo.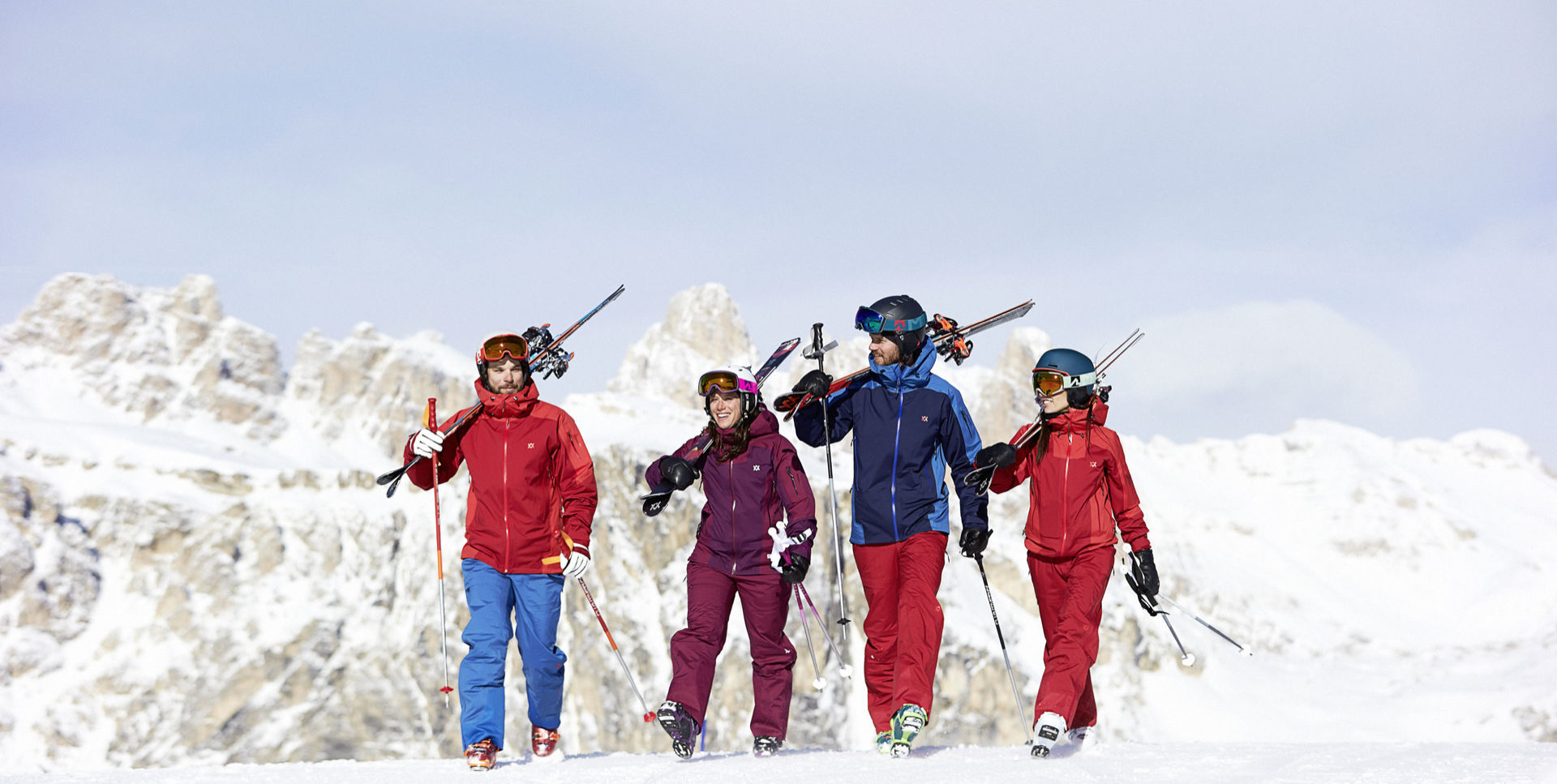 2. Features
GripWalk sole technology does exactly what it says.
Increased walking comfort and top safety for walking.
We've all been there – when it's just a short stroll over frozen snow or slushy sections. But the route over slippery steps and wet wooden terraces can quickly become a complete slide fest. Ski boots simply don't seem to be made for walking. Don't be silly! Using GripWalk soles will put an end to sliding. The curved profile ensures natural rolling properties and increased walking comfort whilst the ribbed hi rubber profile provides the grip you need to stop sliding before it starts.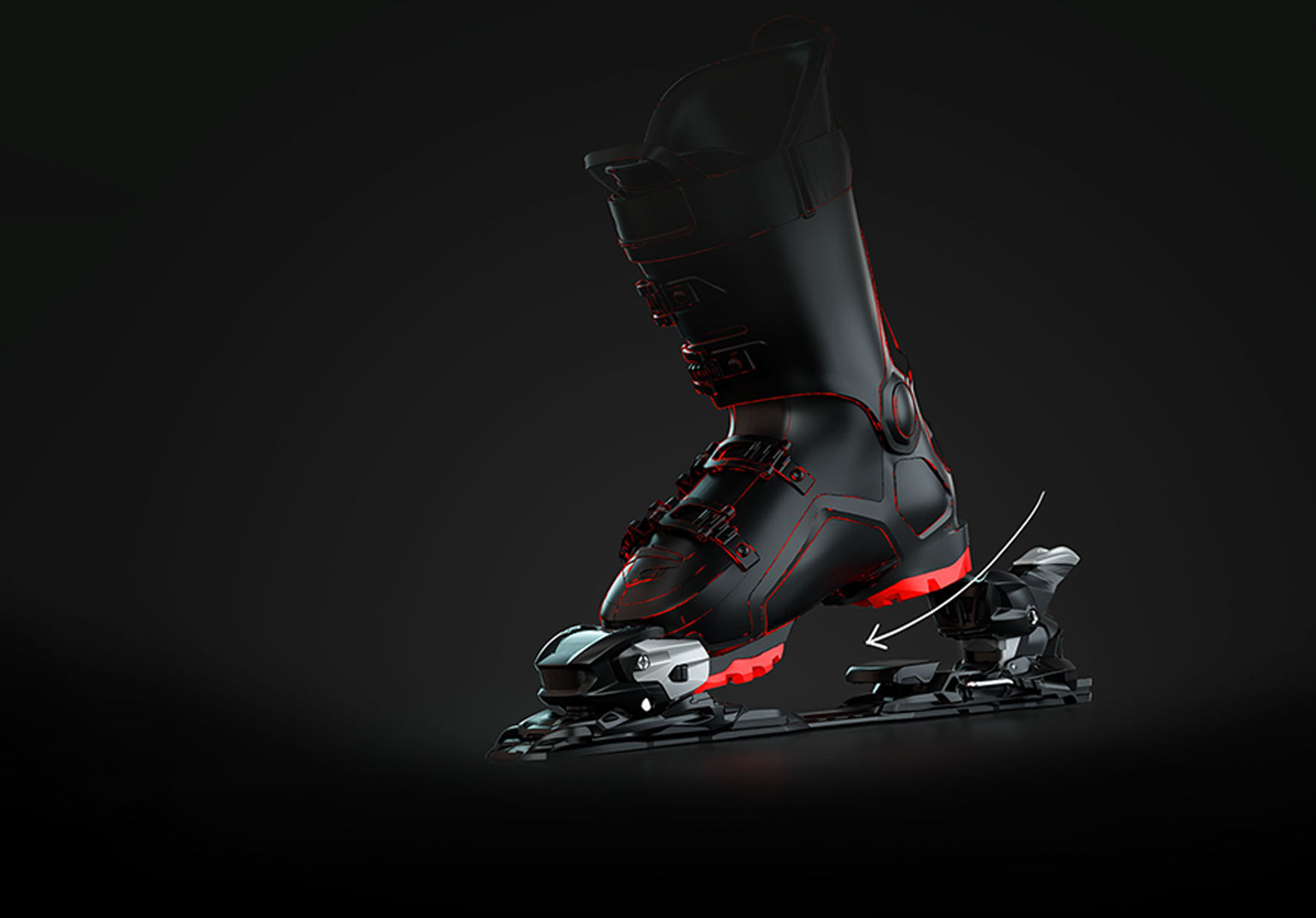 3. Compatible System
Always at the right height.
Precise release function without height adjustment.
Thanks to the unique design of GripWalk ski boot soles, everything stays the same for you in terms of comfort and performance. Even on the familiar entry and exit everything is just like traditional bindings. This means that all GripWalk bindings will also work with conventional Alpine boots and souls which comply with standard ISO 5355 – with absolutely no height adjustment. You can easily tell if your binding is compatible with GripWalk by the official GripWalk logo.
4. Versions
Product versions

GripWalk ISO 23223 "A"

GripWalk ISO 23223 "C"
GripWalk ISO 23223 "A"
The all-rounder – for everyone
The numerous GripWalk partners can provide bespoke GripWalk soles for your ski boot model to ensure greater safety, a great skiing experience and top walking comfort. As the stable pads are secured with screws, they can be replaced quickly and easily when they become worn.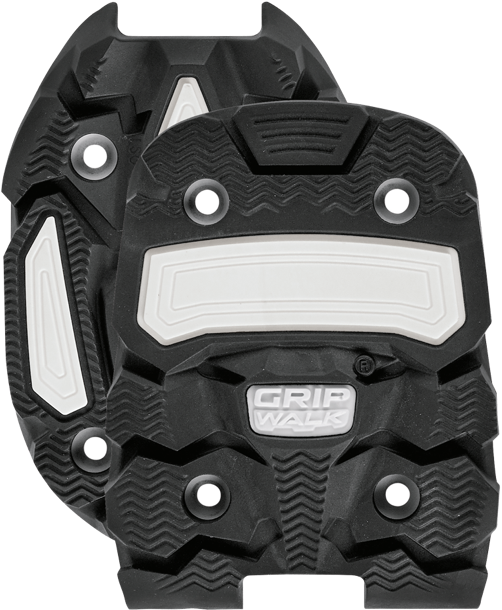 GripWalk ISO 23223 "C"
The Youngster - smooth walking for the little ones
So that kids can concentrate fully on having fun in the snow, GripWalk soles are now also available for small ski boot sizes. So that junior skiers don't have to struggle with the difficulties of walking in the first place, selected brands now also offer GripWalk C for the smallest ones!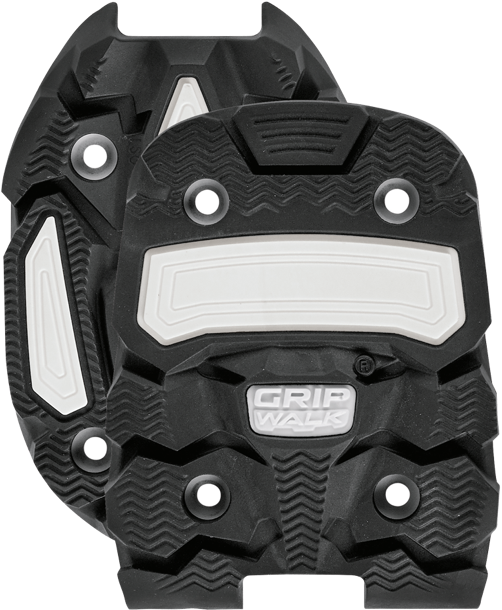 5. Compatibility
VS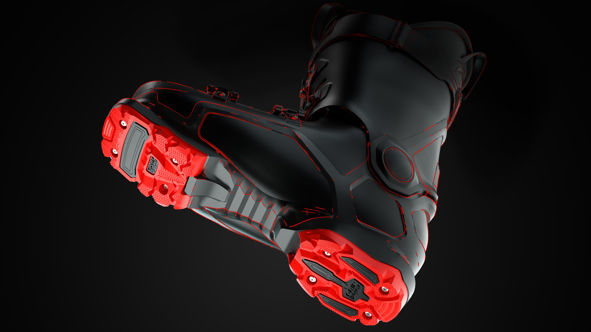 GripWalk
The stable pads are ready-fitted on all ski boots bearing the official GripWalk logo. These are compatible with all ski bindings which also feature the GripWalk logo. These GripWalk bindings work with both GripWalk soles which comply with ISO 23223 and also with standard Alpine souls which comply with ISO 5355. (See table below)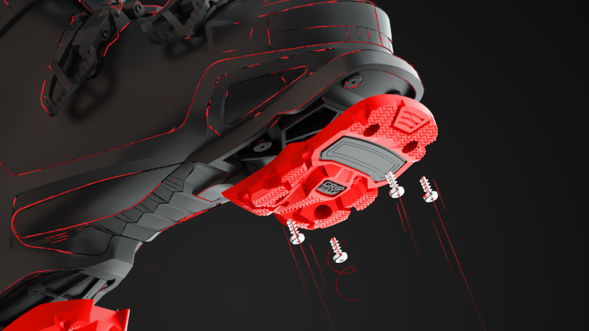 GripWalk Option
Conventional ski boots which bear the official GripWalk Option logo can be retrofitted easily with the appropriate GripWalk sole for the relevant ski boot brand. These models have a standard Alpine sole which can be replaced quite easily with the stable pads in the toe and heel area. (See table below)
6. Compatibility
Compatibility with ski boots and bindings.
In addition to the well-known alpine and touring standards, we have launched ISO 23223 for the season 22/23, which defines the new Gripwalk standard!
On mobile devices the compatibility-table is only available as PDF.
GRIPWALK SOLE
ISO 23223 "A"
GRIPWALK SOLE
ISO 23223 "C"
ALPINE BINDING
"A"
ALPINE BINDING
"A"
BINDING
"MN" + "A"
CHILDREN BINDING
"C A"
CHILDREN BINDING
"C A"
For any other combination of boots and bindings not shown, please contact an authorized dealer.
WARNING: Any boot and binding combinations must be adjusted, tested and regularly maintained by an authorized dealer!
One technology. Lots of partners.
An all-round perfect connection.
What good is the best sole in the world if it is not compatible with your equipment? This is why more and more winter sport brands are now choosing innovative GripWalk technology. This provides you with the widest possible selection of ski bindings and ski boots, which are ready-fitted with GripWalk technology or can be retrofitted with GripWalk soles. Just look for the official GripWalk logo to ensure that your equipment makes a perfect connection with you! Because if it says GripWalk on it, it's got GripWalk in it.